Slappin Halyards is an Instagram feed of our latest photo moments into our personal life aboard a sailboat in the San Juan Islands.  Starting mid June, the five of us will be living full time on a 50′ ferro cement ketch. For the summer, the Salish Sea will be our backyard hopefully getting as far North as Desolation Sound.  Once the school year starts again, will plan on hunkering down in Fisherman Bay of Lopez. Leave us a comment to arrange a hangout.  We love hosting company and  crashing parties.
Hover over an image to read the comment.
Click on an image to follow us on Instagram.
Peace out.
Adam + Laura +  Matteo + Lucia + Jake
s/v Tuwamish
@slappinhalyards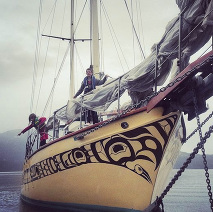 #svTuwamish