Sometimes, I run across a scene in nature thats just makes me stop and awe.
The first thing I do is big exhale and open up my senses for the rush of goodness to follow.
Next comes a flush of gratitude and this clarity of my time and space here on Earth.
Its like a pin on a pincushion realization that the Earth is round.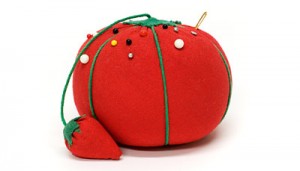 (I grabbed this image from a blog explaining why pincushions are patterned to look like tomatos. You can find it here.)
Then comes a wave of spherical hugeness of peace and natural symbiosis with pockets of human turmoil scattered all around it.
Then I give thanks to whatever power is listening, for the opportunity of living out a most excellent life of freedom and bountiful pleasures that are inherently presented to us as Americans.
This weekend was as idyllic as the Cascades in Winter can be.  It was impossible to have a bad attitude with so much white snow and blue sky bombarding ones' visual senses.  The city of Bellingham should have mandated an evacuation to the mountains until supper time.  My family happened to be hanging out with the Explorers' Club Girls of Wild Whatcom at the Mountaineers' Lodge when I was smacked up side the head by this landscape.  The bloggable part of this scene is the 'tiny home' on the hill.  A home with a window looking out at the whole Mt. Shuksan massif 24/7.  For me a window is infinitely better than any framed piece of art on the wall.  It glows! It radiates!  Its like a backlit, ever appropriately changing, landscape photograph.  It never feels wrong.
No one, in a house of a natural setting, ever said, "I wish there was less windows."
Given the opportunity to live here with an original Ansel Adams print hanging on the wall or a simple window, which would you choose?  Leave a comment.  Pin it, share it.  Spread your love of all things amazing in this world.  And do good things. -AN